Louise Blight, PhD Candidate
Centre for Applied Conservation Research, UBC
BA, Environmental Studies (University of Victoria)
MSc, Biology – Wildlife Ecology (Simon Fraser University)
Mail:  Forest Sciences, Room 3041, 2424 Main Mall, UBC, Vancouver, BC, V6T 1Z4 Canada
Email: lkblight <at> interchange.ubc.ca
My general research interests are in the breeding biology and conservation of marine birds, with a focus on island ecosystems and the Antarctic. My research approach includes applied as well as basic elements, and I participate in several national and international collaborative conservation efforts – e.g., the Vertebrates-at-risk group of the Garry Oak Ecosystems Recovery Team, and Friends of the Ross Sea Ecosystem, a group of Antarctic scientists working to conserve the world's last unfished marine system. I have also worked as a species-at-risk scientist for federal and provincial governments, work that intersected with my interest in translating research findings into conservation policy and management.
For my MSc I used stable isotope analysis to study the effects of egg predation on reproductive success in the rhinoceros auklet, and measured whether birds neglected their eggs in relation to food availability. Despite predation risk, nest attendance was less constant in a poor food year. For my doctorate I am investigating possible drivers of long-term population trends in a common coastal bird, the glaucous-winged gull. As my study period spans 150 years I am combining modern field data with diverse sources such as museum specimens, naturalist accounts, and early publications. Techniques include stable isotope analysis of archived feathers and forage fishes, and meta-regression using multiple datasets. Study results will help to identify historic baseline conditions (populations of historically hunted bird species, forage fish abundance), and the degree to which current rates of population change are attributable to human versus other environmental influences.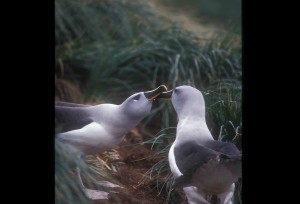 Funding support
Natural Sciences and Engineering Research Council of Canada
Canadian Federation of University Women – Dr. Alice E. Wilson Award
Graduate Fellowship in Sustainable Forestry (UBC Forestry and Koerner Foundation)
American Museum of Natural History – Lerner Gray Memorial Fund
Waterbird Society – Nisbet Grant
Biodiversity Research Centre – NSERC CREATE Training Program in Biodiversity Research
Green College Student Travel Award
Pacific Seabird Group Student Travel Award