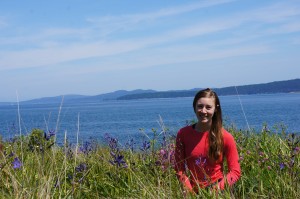 MSc Candidate, Department of Forest and Conservation Sciences, University of British Columbia
BSc Honours, Biological Sciences, Queen's University
Mailing address: Forest Sciences Centre, Room 3615, 2424 Main Mall, Vancouver, BC, V6T 1Z4 CANADA
Email: angela.boag@alumni.ubc.ca
The goal of my Master's Thesis is to develop and validate a predictive habitat distribution model for Garry Oak meadow patches in British Columbia's Georgia Basin. Garry Oak meadows contain an incredibly high diversity of native herbaceous flowering plants, including some of the rarest plant species in Canada. There are considerable efforts to protect and restore this ecosystem, but effective conservation planning requires accurate information on ecosystem distribution. The predictive distribution map I am developing using historical data and field sampling will fill an important data gap for conservationists and land use planners in British Columbia. This work will also contribute to the understanding of conservation planning priorities in highly fragmented, high human impact areas.
Publications
Boag, A.E. & C.G. Eckert. 2013. The effect of host abundance on the distribution and impact of biocontrol agents on purple loosestrife (Lythrum salicaria, Lythraceae). Écoscience 20(1): 90-99.

Conference Posters & Presentations
Boag, A.E. 2013. Comparing biodiversity modeling approaches in a high human impact landscape in British Columbia, Canada. (Poster Presentation). International Congress for Conservation Biology. Baltimore, Maryland.
Boag, A.E. 2010. Evaluating the purple loosestrife biological control program in Ontario: does host distribution dictate efficacy? (Poster Presentation). Canadian Society of Ecology and Evolution. Laval, Quebec.
Boag, A.E. 2010. Closing the Monitoring Gap. (Oral Presentation). I@Q Undergraduate Research Conference. Queen's University, Kingston, Ontario.